Content
Text
My diagnosis last year came as a shock and my initial reaction was one of fear and immense shame. I had little knowledge of HIV and although I knew progression had been made, I was unaware of just how much and I was extremely scared.
I received my diagnosis from 56 Dean Street Clinic and throughout the initial process I become almost overwhelmed by the amount of professional support and guidance that was available. One of the support services I was made aware of was Terrence Higgins Trust and knowing their services existed was a real comfort to me.
As I went through the early stages I naturally become more educated about the virus. This was around the same time as It's A Sin aired and I remember making the comparison from the outbreak in the 1980s to what I was currently experiencing. I felt blessed. Not only that there has been such advances in firstly treatment but also in support, attitude and perception towards people living with HIV.
The further through the process I went, the more I learnt and discovered and the easier accepting with my status become. The potential that we live in a country with zero HIV transmissions by 2030 is a real possibility is incredible. If I can play any small part in making that a reality then it's time and effort well spent.
Quote text

Pride is about confidence, self-respect and solidarity.
Author thumbnail
Image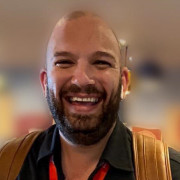 Text
Pride Month to me is all about celebrating progression and equality. I feel extremely grateful to live in a time and place where people are able to freely live the life they choose to. Pride is about confidence, self-respect and solidarity and the right to express our openness about our own sexual identity. I love that Pride events are held in such a positive and uplifting way and are inclusive of everyone.
I'm excited to be organising a Ribbon Walk in June. So far we have a team of around 15 walkers signed up, I wanted to ensure as many people as possible we able to participate so decided a good distance was 15km. I was also very aware that I'm asking people to give up their valuable time so I want to ensure the event is as fun as possible as well as raising as much money and awareness as we can.
Sponsor Frankie's team on JustGiving
Our walk starts in Ladbroke Grove, passes Freddie Mercury's house at Garden Lodge, through Hyde Park and Kensington Gardens ending up at Buckingham Palace.
We'll then head towards Waterloo passing The Houses of Parliament, Tower of London and the London Eye. The home straight is up through Embankment, through Trafalgar Square before finishing up at Old Compton Street, Soho.
Of course like with any physical activity it is important to keep hydrated so a number of pit stops in different beer gardens and bars have been scheduled in.
Our team target was £500 however after just 24 hours fundraising this target was achieved therefore its now been stretched with everyone now aiming to raise over £1,000.
I received my diagnosis in November 2020 and it has been a whirlwind since. Through the support and kindness I have received from my family and friends and knowing of the professional care available, I've decided to live completely open about my status. I have received nothing but compassion and support from everyone.
My friends, colleagues and employers at Everyone Active have been amazing. Not only have they provided access to personal support they are also keen to work alongside Terrence Higgins Trust as well. They have kindly donated prizes and offered free fitness membership to anyone training for an activity to raise funds for Terrence Higgins Trust. We also have a number of potential forthcoming corporate events in which all money raised will be donated.
While stigma does still exist I think it's important to recognise and be thankful of how far we've come and remember those who fought the battles to make living with HIV no longer something to be ashamed of.