Content
Text
The event, which marked the couple's first public engagement together, was hosted to remember the lives lost to HIV, and mark the incredible medical progress that's been made in the fight against the virus.
It took place at the Nottingham Contemporary and was centred around the themes of love, life and health.
A section from the UK AIDS Memorial Quilt, which was made in the early 1990s by the loved ones of those lost to AIDS-related illnesses, was on display. The quilt serves as a poignant reminder of how many have died since the start of the epidemic.
His Royal Highness and Ms Markle met with Lizzie Jordan, who became a mother, widow and diagnosed HIV positive within an 18-month period. Lizzie lost her husband because he didn't know he had HIV, before being diagnosed herself. She shared her story of living well with HIV thanks to treatment.
The couple also met 21-year-old Paida Mutopo, who was born with HIV. Mother to child transmission is now almost entirely eradicated in the UK and Paida and her son Kai – who is HIV-negative – are proof of this. They then spoke to personal trainer Chris O'Hanlon about how his HIV diagnosis two years ago hasn't stopped him from being fit and active.
Prince Harry and Ms Markle then heard about the work happening in Nottingham to prevent new HIV infections, encourage testing and support people to live well with HIV.
Text
They spoke to staff from Terrence Higgins Trust Nottingham about the charity's work to drive down late diagnoses in the city. They also met with the African Institute for Social Development, a Nottingham-based community organisation which enables African men and women to access health information, and The Food Chain, a group that ensures people living with HIV can access the nutrition they need to live well.
A football team of young black African men from Nottingham spoke to Prince Harry and Ms Markle about how they are working with Terrence Higgins Trust to tackle stigma among their community, which is disproportionately affected by HIV. The team is sponsored by the charity's Champions of Change project, which works with 'champions' in local black African communities to tackle stigma, encourage testing and talk about the realities of HIV.
Quote text

I'm proof that with treatment you can live a normal, healthy life with HIV.
Author thumbnail
Image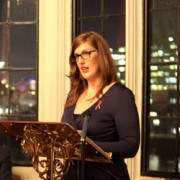 Text
Lizzie Jordan, who was diagnosed with HIV 11 years ago, said: 'I'm proof that with treatment you can live a normal, healthy life with HIV. My partner Benji died because he didn't know he had HIV and I don't want that to happen to anyone else, or for any more families to go through what my son and I have gone through.'
Ian Green, Chief Executive at Terrence Higgins Trust, said: 'World AIDS Day is an important day to remember all those lost to HIV since the start of the epidemic. Thankfully, incredible medical advances been made in the fight against HIV since our namesake Terry Higgins lost his life 35 years ago. Today the UK is closer than ever to beating HIV, with the largest drop in new diagnoses reported this year, but we won't get there until we stamp out HIV stigma for good.'