Content
Text
Our fundraisers have always impressed us with their creative and cracking ways to raise money, including:
Red ribbon sales, quizzes and raffles.
Bake sales, coffee mornings, information stalls and panel shows.
Wine tastings, cocktail making, dinner parties, karaoke nights, Christmas parties, murder mysteries, film screenings and psychic nights.
Marathon games nights, abstinence challenges and knitathons.
Sponsored exercise classes (think spin bikes and Zumbathons!), cycles, runs and swims.
Tribute nights (from Freddie Mercury to David Bowie, George Michael and beyond!), the always-popular drag nights, musical bingo, cabaret nights and music concerts.
Whatever it is that takes your fancy, and however you want to raise money, we're here for you. With fundraising tips, event hosting advice, and fundraising materials, we've everything you need to make sure your fundraiser is a total success.
Text
Read about some of our amazing fundraiser stories below, then fill in the form to let us know all about your plans.
Mat's fundraising album Sex, Drugs and HIV
Text
'I chose to support Terrence Higgins Trust after the amazing support and help they gave me when I was first diagnosed. I wanted to give something back to the people who helped me through a scary time when not much was known about AIDS and HIV. I started the Sex, Drugs and HIV project in 1995, asking many of my musician friends to help me record an album to raise money for charity. All the musicians involved gave their time and talents for free to raise money and awareness for the charities.'
Charlie's prints
Text
'I have friends who are living with HIV – many friends who have battled, been ashamed, never told their closest friends or mums and dads, have had to have difficult conversations with partners, had to hide medication through fear of exposure. I was designing some art for my best friend's new apartment. He is Welsh, so decided on something based on the Pride film. We both decided that it would be good to print out some more and sell them, with all proceeds going to charity. It's Pride month after all and being a gay woman myself, I feel I have to get involved.'
Ben's 'Shave it or Save it' for WAD
Text
'I've supported Terrence Higgins Trust since I was diagnosed with HIV back in the early 2000s. It really helped back then to feel connected to other people living with HIV. My beard is my pride and joy, and I just thought I could really make an impact for this cause if I let the public choose whether to #ShaveIt or #SaveIt. People I know would understand what it meant to me to even be putting my beard on the line for this. Find something that will get someone's interest, will make them laugh or get other people involved.'
The Lovelies' George Michael Tribute fundraiser
Text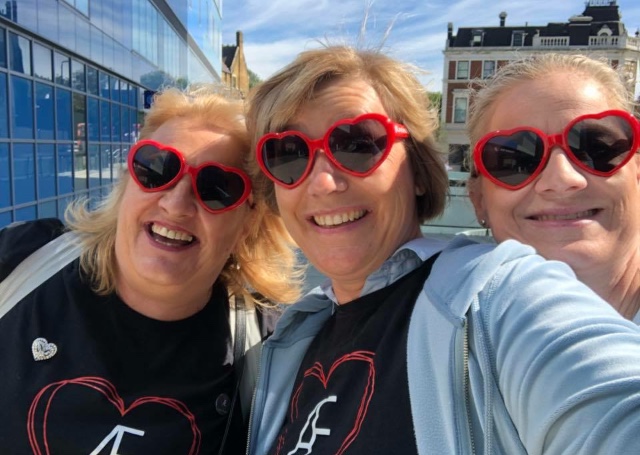 'We teamed up with The George Michael Story stage show, who donate a portion of ticket sales and merchandise sales from each gig via Lovelies.help. More recently we teamed up with George Michael Live Tribute with the brilliant Steve Mitchell (who was originally part of The George Michael Story group), who will also be doing the same. By Monday 8 May 2017 we had raised our first £1,000 and it just didn't stop! In November 2019 the total reached an incredible £100,000 and we're currently at £135,000 split across nine charities.'
Liz and Francesca's Bowie Tribute night
Text
'We are so proud to be once again raising money for Terrence Higgins Trust by remembering our dear friend Jim and paying tribute to the work of the legendary David Bowie. After his HIV diagnosis, Jim shared his experience through the poetry and gave love and hope to so many people. This year we are hoping to raise even more money to support people affected by HIV across the UK. It's remarkable that we are now in the position where we can look to end new HIV transmissions and every penny raised at this year's event will go towards making that a reality.'
Laura's Rainbow Dress Down day for Pride
Text
'A lot of our team had been watching It's a Sin and had been really moved by it. For some it brought back some sad memories of the past, for others it was completely new and eye-opening but heart-breaking all the same. As we are all working from home at the moment, it was hard to think of a fundraising idea that we could all still get involved in together. So we thought it would be an easy yet fun idea to have a rainbow day where everyone could dress up in rainbow clothes and/or decorate their room in rainbow colours to show some support and raise money.