Content
Text
National HIV Testing Week is a great opportunity for you to get tested and encourage others to do the same, particularly those from the groups most affected by HIV, including gay and bisexual men and black African men and women. 
This year, This Morning's Dr Ranj and E4's The Sex Clinic nurse Sarah Mulindwa are among the famous faces encouraging people to give HIV the finger by taking a quick and painless finger-prick HIV test.
Text
Dr Ranj says: 'Getting tested is nothing to be worried about – I've been tested in the past and it's quick and easy. You'll be in a better situation knowing your status than not knowing. With effective treatment, people living with HIV can not only live long healthy lives but they can't pass it on to others.'
National HIV Testing Week runs from 16 to 22 November 2019 and is coordinated by us on behalf of HIV Prevention England.
Quote text

Knowing your status is a lot better than not knowing.
Author thumbnail
Image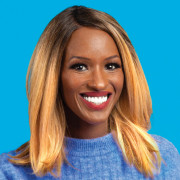 Why testing is important
Text
It's estimated that 1 in 14 people in the UK are living with HIV and remain undiagnosed, according to Public Health England. Testing is the only way to know for sure if you have HIV or not, as people sometimes live for years unaware that they have it.
If you've never tested, or it's been more than a year since your last test, it's a good idea to test now. It's advised to test once a year – or more often if you've had unprotected sex with more than one partner.
Testing for HIV puts you in control and thanks to treatment will stop you from getting seriously ill, enable you to live a normal lifespan and prevent you from passing the virus on to anyone else.
'It's important to remember that knowing your status is a lot better than not knowing. If you don't know your status, this can not only have an impact on your health, but can also put your partner(s) at risk,' says Sarah Mulindwa.
How to get tested
Text
There are lots of ways to get tested. You can test at your sexual health clinic, at your GP, or even take a test yourself at home. And there are lots of people out and about during National HIV Testing Week offering tests in the community.
You can also order a free HIV postal test kit.
Find out more at startswithme.org.uk.