Content
Text
To mark the end of Black History Month, we've compiled a list of 10 Black HIV activists and influencers who have had an impact on HIV treatment access, prevention and the lives of people living with HIV.
This list is non-exhaustive but provides a snapshot into how impactful the acts of individuals can be in our efforts to end the HIV pandemic.
Susan Cole
Text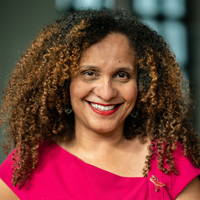 Susan is an award-winning HIV activist, broadcaster, writer and public speaker, advocating for the rights of people living with HIV for over 18 years. She's particularly passionate about issues affecting people from Black communities living with HIV, writing for a number of publications about the health inequalities they face.
She was awarded Women of the Year at the last NAZ OSCARS (nOSCARS) ceremony for her work with women of colour living with HIV. She leads the community engagement and broadcasting activities for NAM aidsmap, working to ensure that empowering HIV information reaches people of colour living with HIV.
Susan produces and hosts the broadcast series aidsmapLIVE, watched by people living with HIV around the globe, winner of both the nOSCARS Media Award and Innovation Award. Over the COVID-19 pandemic she's also co-hosted the popular broadcast aidsmapCHAT for an international audience of people living with HIV and hosted aidsmapWOMEN.
Rev. Jide Macaulay
Text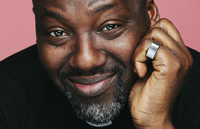 Reverend Jide Macaulay is a Pastor, and founder and CEO of House of Rainbow CIC. He is the Vice-Chair of One Voice Network and Chairperson of INERELA+ Europe. He also serves on a number of Trustee and Advisory Boards.
As an openly gay British-Nigerian Christian minister since 1998, Jide is a strong, vocal and inspiring champion and activist for HIV and social justice causes. He is a Law, Theology and Pastoral Theology graduate, who writes for various Christian and secular Journals, has written a number of books, and is also a poet.
Jide focuses his ministry on inclusion and reconciliation of sexuality, spirituality and human rights. He has won several awards including the Black LGBT Community Award for 'Man of the Year' and a number of nOSCARS for his work helping people of faith.
Takudzwa Mukiwa
Text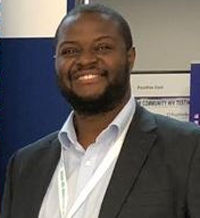 Our very own Takudzwa Mukiwa is the current Head of Health Improvement Programmes at Terrence Higgins Trust and the founder of Black Men's Health.
He has been a strong advocate for HIV prevention and treatment among African communities for over a decade. Some of his achievements include developing the first of its kind digital outreach model to reach African communities to raise awareness of HIV and enable access to online testing (including 'click and collect'), and which became a successful blueprint for future programmes around the country.
Takudzwa also forged strong relationships with successful African diaspora media and influencers to maximise the impact of HIV prevention campaigns and ensure conversations are community-led.
His background is in Community Engagement, International Development and Performance Arts.
Denis Onyango
Text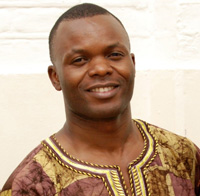 Denis Onyango is the Programmes Director at Africa Advocacy Foundation (AAF) and Partnerships Lead of the One Voice Network.
A veritable kingmaker, his 'behind the scenes' influence has led to the success of cutting-edge initiatives for black communities in the UK, including the establishment of the One Voice Network leadership collective and the PrEP and Prejudice HIV prevention campaign, the first major PrEP campaign for black communities in the UK.
Denis has over 19 years' experience of grassroots community health promotion work and is also a strong advocate for the rights of people living with HIV. He is involved in healthcare policy work at national and international levels and serves on several advisory boards. He is passionate about improving services for Europe's most underserved communities, including LGTBI, homeless, migrants, people who inject drugs, sex workers and prisoners.
Denis' background is in education, public health, policy and voluntary sector management.
Phil Samba
Text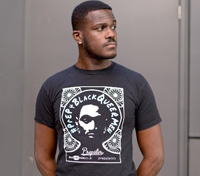 Phil Samba is a social activist, writer and researcher. He is a passionate campaigner primarily focused on reducing the health inequalities of people of colour and in particular, improving the sexual health and mental health of queer men of colour.
A former Terrence Higgins Trust colleague, he's a strong advocate and user of PrEP and started using his writing and his own personal social media accounts to engage queer men of colour about their health. He co-developed and starred in all three London-wide Me.Him.Us. campaigns for LGBT Hero – specifically targeting, representing and encouraging black gay and bisexual men to get tested for STIs and HIV and monitor their mental health.
His activism has encouraged young black men to be open about their sexual and mental health and seek the services they require. He was awarded the Gay Times Honour for STEM in 2018. Following his role at Terrence Higgins Trust as a Health Improvement Specialist, he is now the Strategic Lead for #PrEP4QueerMenOfColour at PrEPster.
Winnie Sseruma
Text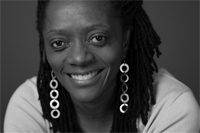 Winnie Ssanyu Sseruma is a Freelance International Development Consultant based in London, working mainly on access to healthcare, focusing on Black communities in the UK and Sub-Saharan Africa.
Winnie has 20 years' experience as an HIV treatment activist, highlighting the impact of HIV on women and people living with HIV. Winnie served for two years on the Terrence Higgins Trust advisory board. She has also lead organisations, such as the African Health Policy Network (AHPN).
She started FFENA, a group of Black HIV positive men and women in the UK, actively engaging, researching, reviewing and advocating on policy issues impacting the lives of people living with HIV in the UK and across the world. Winnie's consultancy work includes providing technical expertise to community organisations responding to issues of social justice, women's leadership and HIV.
Winnie was born in the UK, grew up in Uganda and went to University in the US where she earned a Sociology degree. She has been living with HIV for 32 years.
Marc Thompson
Text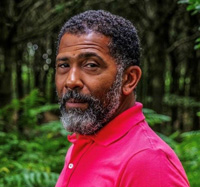 Marc Thompson is the current Director of The Love Tank, and used to work for Terrence Higgins Trust as Strategic Lead for Health Improvement. He also co-founded both PrEPster and BlackOut UK.
Marc has been a prominent activist for HIV and sexual health in the UK for over 25 years, including on key issues like HIV Peer support, PrEP, U=U and social justice. He is particularly interested in the intersection of race, sexuality and HIV and the impact it has on individuals and society.
Marc has worked with various statutory bodies and community based organisations and has played a key role in shaping the work of the HIV sector over the last two decades. Marc is also a skilled trainer and public speaker at conferences, corporate events, schools, colleges and universities on race and sexuality, sexual health and living with HIV.
Marsha P Johnson
Text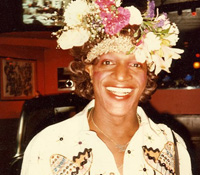 Marsha P Johnson (1945-1992) was an iconic black trans woman, a self-identified drag queen and a vocal activist. She helped found STAR, one of the USA's first safe spaces for transgender and homeless youth. She advocated tirelessly on behalf of sex workers, prisoners and people with HIV. She is remembered as one of the most significant activists for transgender rights, although the term 'transgender' wasn't commonly used during her lifetime.
Johnson identified as a 'transvestite', gay and a drag queen, and used she/her pronouns. She played a prominent role in the New York City Stonewall Riots of 1969, which are considered to be one of the most important events leading to the gay liberation movement and the twentieth century fight for LGBT rights in the USA. The riots would go on a year later to inspire the first ever gay pride parade.
Marsha was a well-respected organiser and marshal of ACT UP, the international grassroots political group working to end HIV, which started in New York in 1987.
She has a number of tributes to her memory, including a number of films, a mural in Texas, and a forthcoming monument at Greenwich Village, near the site of the Stonewall Club. This monument will be the world's first to honour transgender activists.
Simon Nkoli
Text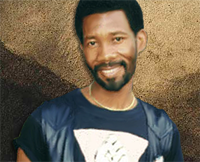 Simon Nkoli (1957 –1998) was an anti-apartheid, gay rights and HIV activist in South Africa. He organised South Africa's first ever Pride parade in 1990, and was one of the country's first gay men who came out as living with HIV. He died of late stage HIV in 1998, unable to access appropriate treatment.
Simon's death shook his friends and colleagues and brought home to many the stark reality of the high cost and difficulty of obtaining correctly administered treatment. He inspired the creation of the Treatment Action Campaign (TAC), one of the most important HIV activist organisations in the world. The TAC would go on to successfully lobby the reluctant South African Government to begin making antiretroviral drugs available to all through the public health system, which had ripple effects in several other countries.
He has been honoured with numerous awards, including the Stonewall Award, and has had films made to celebrate his life and recognise his experiences.
Tiwa Savage
Text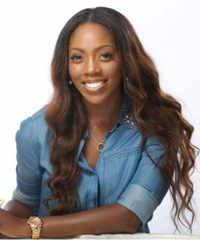 is a world-renown Nigerian singer, song-writer and actress. Outside of the arts, she is a vocal women's rights activist, speaking out on issues including rape, HIV and breast cancer.
Tiwa starred in the popular and highly impactful drama series, MTV Shuga. The show started as part of a multimedia campaign to spread the message about HIV, safer sex, equality, and other social issues. It later became a hit and was aired in 88 television stations across the world, with estimated household viewers of over 550 million. It is considered the gold-standard model for use of mass-media as a vehicle to educate and positively influence the behaviour of young people regarding sexual health and HIV awareness.
Through their involvement in the show, Tiwa, alongside Oscar-award winning Lupita Nyong'o - who starred in the first season of the show – have been very influential in helping destigmatise HIV in an entire generation of youth across Africa.