Content
Text
This summer, one of our brilliant fundraisers Ben Wood took on the Big Shave Off and raised a whopping £2,477 without parting with his magnificent beard. How? He got friends, family and colleagues to vote for the fate of his pride and joy by donating to his fundraiser. We spoke to Ben about his amazing achievement.
How did you hear about us?
I've supported Terrence Higgins Trust since I was diagnosed with HIV back in the early 2000s. It really helped back then to feel connected to other people living with HIV.
Why did you choose to support us?
Nowadays, as well as the support work, I feel really passionate about the campaign to change people's attitudes to HIV and fight stigma.
Why did you choose to shave your beard (or not!) to raise money?
My beard is my pride and joy, and I just thought I could really make an impact for this cause if I let the public choose whether to #ShaveIt or #SaveIt. People I know would understand what it meant to me to even be putting my beard on the line for this.
Quote text

Find something that will get someone's interest or make them laugh.
Author thumbnail
Image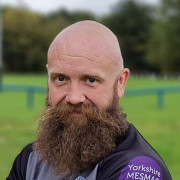 Text
Tell us more about your Shave It or Save It challenge
I set up two JustGiving pages, one for 'Shave it' and one for 'Save it' and invited friends, family, and colleagues to decide which I should do. It really worked because people got behind a cause. Some really don't like my beard (I know!!) and campaigned hard, but in the end team #SaveIt won!
What would be your top tips for fundraising for this challenge?
Find something that will get someone's interest, will make them laugh or get other people involved. Part of the reason mine was successful is that I got other people behind the campaign to share the pages and promote the cause.