Content
Text
Today, former Wales rugby captain Gareth Thomas – who revealed he's living with HIV in September – has been announced as a commissioner on the first ever HIV Commission.
His new role, revealed by leading HIV charities Terrence Higgins Trust and NAT (National AIDS Trust), will see him playing a key part in helping to end HIV transmissions in England over the next 10 years.
The announcement comes ahead of Thomas meeting His Royal Highness The Duke of Sussex at Premiership rugby club Harlequins to mark National HIV Testing Week, which starts on Saturday 16 November. They will also discuss their shared focus on helping to bring HIV transmissions and stigma to an end. 
'I want to be a part of a positive change and play a role in driving us towards our goal where no-one else contracts HIV,' says Thomas on his new role as HIV Commissioner. 
The HIV Commission was set up by Terrence Higgins Trust and NAT to develop independent recommendations towards ending all new HIV transmissions in England by 2030.
Quote text

I want to do everything I can to challenge stigma and outdated views about HIV.
Author thumbnail
Image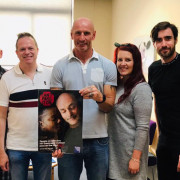 Text
To coincide with the event, the HIV Commission has launched its call for evidence to inform the clear recommendations for eradicating new transmissions within 10 years, which will be published next spring. It hopes to hear from a wide variety of different viewpoints, including charities, public bodies, businesses, researchers, public health experts and those directly affected by HIV.  
The number of HIV diagnoses in England have dropped to their lowest level since 2000. This follows a period of rapid progression where those diagnosed are provided with immediate access to HIV treatment, meaning they are more quickly virally suppressed and can't pass on HIV to partners. The increased availability of HIV prevention pill PrEP has also contributed to the drop.
But reductions in new HIV diagnoses have recently slowed, with a 6% decline in 2018 compared to 17% in 2017. This means we're not on track to end transmissions in the next 10 years. The work of the HIV Commission is therefore more important than ever to tackle both complacency and stigma. 
In addition to Thomas, the HIV Commission is made up of high-profile commissioners from a range of backgrounds and areas of expertise – including business, technology and faith-based organisations – and is chaired by Dame Inga Beale, former CEO of Lloyd's of London. 
Since Thomas spoke publicly about living with HIV, Terrence Higgins Trust has reported a surge in orders for HIV self tests and visits to its website – mirroring the five-fold surge in HIV self tests reported by Terrence Higgins Trust after The Duke of Sussex tested live on Facebook in 2016. In an Instagram post, The Duke of Sussex called Thomas an 'absolute legend', saying 'by sharing your story of being HIV+, you are saving lives and shattering stigma.'
On his appointment to the HIV Commission, Gareth Thomas said: 'I spoke out about living with HIV not for me, but for all those people who are struggling and don't have a platform. For them I want to do everything I can to challenge stigma and outdated views about HIV. That's why I'm thrilled to be joining the HIV Commission because I want to be a part of a positive change and play a role in driving us towards our goal where no-one else contracts HIV. 
'I have enormous respect for The Duke of Sussex who has done so much to normalise HIV testing and fight the stigma across the globe. I hope that today's event will focus everyone's attention on HIV and that we can push forwards to achieve our 2030 goal of zero HIV transmissions and – as importantly – zero stigma.'
Dame Inga Beale, Chair of the HIV Commission, said: 'We're delighted Gareth is joining the Commission. We have all been inspired by the impact Gareth has had in just a couple of months in presenting the realities of HIV. It's also hugely important that we are joined by someone with lived experience as they know first hand what it feels like to receive that diagnosis.
'We will be working with experts from the science and public health communities, and drawing on the expertise and experience of people living with HIV, businesses, the voluntary sector and the public to develop a credible way to make England the first country in the world to achieve this ambition.'
Ian Green, Chief Executive at Terrence Higgins Trust, said: 'Gareth is a strong, driven person who has already done so much to change people's perceptions of HIV. That's why I have absolutely no doubt that the HIV Commission is going to benefit hugely from his involvement.
'We have this incredible opportunity to end HIV transmissions in the next decade, but we won't get there by doing what we're already doing – we need to do more and be more ambitious. I'm confident that Gareth, Dame Inga and the other exceptional commissioners will help to drive us towards making our ambition a reality.'
Deborah Gold, Chief Executive at NAT, said: 'Our story of progress has been one of communities working together: people living with HIV, charities, government, health services, doctors and nurses, business, faith leaders. An independent commission – bringing together leaders from across society, including Gareth who has brought about so much change so quickly – is the right way to launch the next, and hopefully last, phase in this fight.'