Content
Text
Saturday 22 January marks exactly one year since the first episode of It's A Sin hit our screens.
The show is officially Channel 4's most-watched drama series ever and has had an immeasurable impact on people living in the UK.
This impact included a surge in HIV testing after the show happened to air during National HIV Testing Week. On the first day of the campaign, we saw a record-breaking 8,207 tests orders. Our record before this was 2,709.
The show also led to a sharp increase in HIV-related Google searches. Following the first episode, there was a 3,100% jump in searches for 'Why was AIDS so deadly in the 80s?' and a 2,150% rise for 'Can women get AIDS?'
Our helpline THT Direct saw a 30% increase in calls the day after the first episode of It's a Sin aired. THT Direct provides support and advice around HIV and sexual health.
Additionally, our website traffic has more than doubled since the show aired. The biggest increases have been on pages on our history and our work in the 1980s, which have jumped into the top 10 most visited pages on our site. We've also seen a lot more interest in statistics around HIV and people teaching themselves about the virus and how it's transmitted.
Quote text

Never before in my lifetime has a TV show has such a profound effect.
Author thumbnail
Image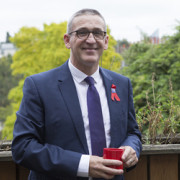 Text
Our Chief Executive Ian Green said: 'One year on from It's A Sin and it's safe to say that none of us at Terrence Higgins Trust could have predicted the immeasurable impact of the show. Before it aired a lot of us were concerned that it would set us back in terms of public perceptions of HIV and fuel attitudes towards the virus that are rooted in the 1980s – how wrong we were.'
'Never before in my lifetime has a TV show has such a profound effect on people from all walks of life. Millions of us across the UK watched It's A Sin, reliving the devastation of the AIDS crisis. For many, it was a first look into what the epidemic was really like in the UK.
'We often think about the AIDS crisis from an American perspective, therefore this brutally honest depiction of what happened here in the UK began to hit home. Families did burn the beds of their children and relatives that died from AIDS-related illnesses while excluding the dead's chosen family from the funeral. Young gay men were forcibly outed as they had to tell family members they were gay and dying of AIDS at the same time. And while this was happening, the Government did absolutely nothing but spread mass hysteria.'
'It's A Sin looks at a time in our history we must never forget and sparked a much-needed national conversation about HIV. Four decades on from the first cases of HIV and we're working towards the scientifically possible goal of ending new cases of the virus by 2030, this really would have been unimaginable back then.
'This progress wouldn't have been possible without advancements we've made in prevention and treatment – people living with HIV who are on effective treatment can't pass on the virus and can expect to live just as long as anyone else. There's also an HIV prevention pill called PrEP that you can take to protect yourself from HIV.
'Despite the incredible progress we've made, stigma and discrimination towards people living with HIV are still widespread. We all must play our part in tackling this by educating ourselves and others about the reality of the virus in 2022.'
'Stigma hurts people living with HIV, it stops people from talking openly about what the virus means and acts as a barrier that prevents many from getting tested and knowing their status. National HIV Testing Week starts on Monday 7 February and we're calling on people across the country to 'give HIV the finger'.
'This year's campaign follows National HIV Testing Week 2021's record-breaking success – thanks to It's A Sin, more people than ever before took action and got tested. We must maintain this momentum as we work towards ending new cases of HIV by 2030.'